This slideshow requires JavaScript.
Plymouth Office & Warehouse Space for Lease
Office warehouse commercial property located on Medicine Lake, in Plymouth (with an overall lot size of 374,616 sf acre 8.60). Plymouth office space rentals are currently available.
Property Features: We have office space, warehouse space, and office warehouse combo spaces available for lease at this location.
Property Info
Location Details
Narrative
Address
Video Tours
Map
Easy access to Hwy 169, Hwy 55, I-394, and I-494.
Close proximity to Minneapolis, Golden Valley, St Louis Park, and New Hope.
Lake views.
22 foot ceilings (warehouse).
Ample free parking is available.
Dock and drive-in doors.
Custom build-outs available.
If location matters to you then you will be pleased to know that our Medicine Lake location in Plymouth, Minnesota is an outstanding option. Offering office, warehouse, and office warehouse combos for lease in this combo warehouse and office building.
Centrally located in the bustling Minneapolis suburb of Plymouth, on the magnificent 883 acre Medicine Lake, this JGM Property really is one of a kind. Plymouth commercial office rentals are rating higher on many peoples lists, especially office buildings with smaller square footage range of office spaces.
The building is easily accessible from Highway 169 (on the city's eastern border), Highway 55, Interstate 394, and Interstate 494. It is also just three miles away from Interstate 94. Plymouth is located within five miles of Golden Valley, New Hope, Maple Grove, and St Louis Park. It is also only fifteen miles west of downtown Minneapolis.
The town of Plymouth is a great place to work and/or live, with a real main street feel throughout the neighborhoods. Many small to medium-sized businesses are headquartered there because costs are much lower than in Minneapolis, but a number of owners still get many of the benefits of working in a major metropolis. The city is home to a thriving commercial-industrial base, consisting of nearly 50,000 jobs. Broker(s) report price per sf data shows a sharp rise as of late in the market sale price of commercial properties, in this market by address with proximity to this location with spaces for rent.
Medicine Lake itself is a beautiful asset to the property. Plymouth was founded by the Dakota tribe who named the lake Mdewakanton, meaning "Lake of the Spirit." JGM Properties is offering rates so affordable that you just might save enough to buy that boat you always wanted to hit the lake on the weekends (or weekdays… your secret is safe with us).
If you want a great space in a great location for a great price (per sf rates starting at $14.50 rental rate) with a great view then we have GREAT news for you… We can make that happen for you at one of our Medicine Lake properties in Plymouth, Minnesota. All you have to do is call Eli at JGM Properties and he will be happy to set up a time to show you and your team around for a viewing of the gem we are proud to call our own at Medicine Lake Properties. Let us be of service to you.
The spaces range from 200-20,000 square feet (with many sizes in between) and, can include based on your custom preferences, office, warehouse, creative loft, fitness area, studio, and/or storage spaces. The single room spaces are big enough for a desk for your computer and a chair, some with a window looking the lake. The smaller spaces range from a little larger than a phone booth to several hundred square feet (depending on your budget). The Medicine Lake Property truly is one of our most versatile locations. We are happy to custom build any type or size of space you can dream up and are even able to knock down or add walls to get you the configuration you need. Ask Eli about adding customized build-outs. The possibilities are endless, and the prices are outstanding. If you're in the market to rent Plymouth office space we can help. We have commercial offices for lease in this commercial building which is centrally located off 169 between 394 and 94.
You will also have 24/7/365 access (morning, afternoon, evening, night, whenever). There's plenty of off street parking for cars. The trails are connected via sidewalks and paths for people to use for walking or biking. There's also a public park and beach nearby (bike rack pet friendly). Just down the road are several restaurants and shops for your convenience of local entertainment and popular amenities. If your company is looking for value and convenience these Plymouth rentals should make the shortlist.
And how can you not love a name like Medicine Lake? Doesn't it sound like leasing a space with JGM Properties at Medicine Lake is like dipping your business into a refreshing pool of wellness? Don't just stick out a toe, do a cannonball into this opportunity's face. It is a beautiful property. Medicine Lake covers an expansive 886 acres and is surrounded by numerous walking trails.
As with all JGM Properties, the sites offer ample, safe parking, property upkeep and office maintenance, central air and heat, and security.
The beautiful surrounding of the lake and our ability to custom design any type of office or warehouse you want make this one of JGM's favorite buildings. The variety of potential spaces is unmatched anywhere else in the wonderful town of Plymouth. There are several properties available right now, but the spaces won't be vacant long. These Plymouth office spaces and other similar commercial space at other locations nearby are experiencing a higher than average demand, as buildings with a class B and C ratings affordable flat rate pricing (gross flat amount; including electric and gas but not including wi-fi). If you scan the pricing on our platform we can match rent with buildings (ask for more details).
Call Eli today to see how you can get 50% off your first month's rent at one of our most esteemed properties. If we don't have a space that fits your needs for office spaces you can search our other real estate listings in our portfolio on the Properties page in the main navigation. Searches can be catered to your purpose using filters (filter map list option as well). We have affiliation with a retail location a few miles away if retail spaces are what you need. We also have other property types with office space availabilities, some smaller and similar to coworking spaces, if office space listings for coworking adjacent space is what you need. For information on office listings or questions about overall property office availability, or details contact property lease contact Eli at the phone number below:
612-290-1037
Receive updates on Plymouth meeting space (meeting rooms available on long term rentals) or office space. Or provide us with details regarding your search criteria (minimum amount of space, search area [zip code], property characters, total monthly budget, etc. We will first search our lease portfolio for a space that fits your criteria. If we don't have space to fit your business needs we will generate reports of office properties at other locations outside our network, with availabilities to fit your total requirements. In addition we'll even help you tour spaces, get you through the negotiation process, all the way to signing the lease contract. It can be helpful to have someone explain general lease management practices, especially if you haven't leased a space before (or its's been s long time). We're here to assist you. We also have another location not too far away in St Louis Park next to Knollwood ( https://jgmproperties.com/property/8700-professional-building/ )
 9900 13th Avenue North Plymouth MN 55441
AVAILABLE SPACES
{ click the SQFT links below to view floor plans }
OVERALL PROPERTY LAYOUT
PROPERTY INFO FLYER
Office Space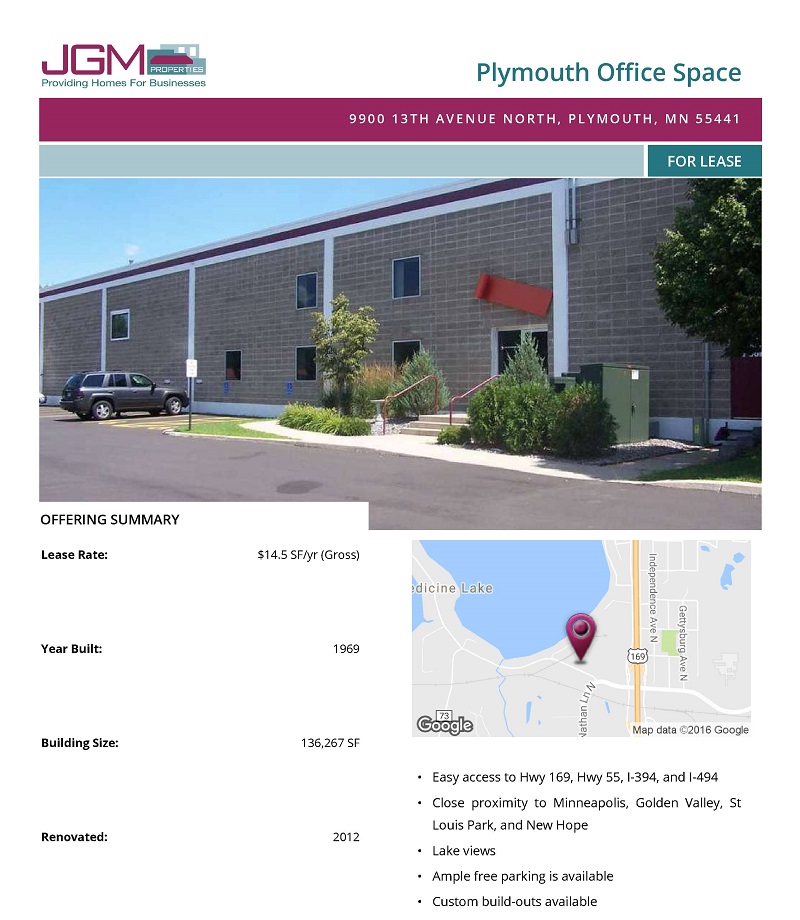 PROPERTY INFO FLYER
Warehouse & Office Space