Woodbury Office Space for Lease
This recently renovated office space property is located off Hwy 94 & Century Ave, just one exit west of 494. The buildings are conveniently attached to the Green Mill Restaurant & Country Inn Hotel.
If you need Woodbury office space for lease we have the right place for you!
Property Info
Location Details
Narrative
Address
3D Virtual Tours
Map
Located off I-94 and I-494.
Close proximity to Maplewood, St Paul, Stillwater, Oakdale, and Hudson WI.
Free conference rooms.
Underground parking available.
Ample free parking is available.
Free Wi-Fi.
Custom build-outs available.
You could search the world century after century and never find a location as ideal for your business as our available offices at the complex that goes by the name of Century Park Office.
The easily accessible office space property (consisting of three buildings in total) is located on a lot (284,447 sf acre 6.53), off I-94 & Century Ave, just one exit west of I-494. Woodbury's the largest city in all of Washington County, is in close proximity to Oakdale, Maplewood, Stillwater, St Paul (just east of St. Paul), and Hudson WI.
There are many restaurants, parks (45 parks to be exact with the three largest encircling the large, beautiful lakes of Colby, Wilmes, and Powers), and shopping all over the great city. We know you can't exactly duck out of the office everyday you feel like renting a jet ski, but here at JGM Properties, we like that you have the option. There are a ton of delicious restaurants very nearby, but saying our favorite one is nearby would be an understatement… The Green Mill restaurant, a Minnesota staple, famous for its award-winning deep dish pizza, is actually attached to the Century Park Office building. There's also an Einstein Bagel and Caribou Coffee onsite that's part of the complex.
Woodbury Minnesota is considered a core suburb of the Twin Cities' metropolis area, but, on its own, is the 10th largest city in all of Minnesota with a population of over sixty-five thousand people and an area of 36 square miles! However, the city of Woodbury is also a respectable 19 miles away from the jammed highways, traffic, loud noise, and chaos of Minneapolis St Paul metro. So, if you want to work in a city with busting neighborhoods, a great economy, fortune 500 companies, lots of potential customers, clients, or employees, and is easy to get to and from, you might have found a new place to hang your hat in the wonderful community of Woodbury.
Call Eli to set up a tour of one of our available office spaces in the Century Park location today, to learn more information about the options available from 200-12,000 Square feet (sf). Scroll down to search property office availability below to see a showcase of currently available office listings for rent, and sort the shortlist of the currently lease portfolio. If you're company is looking to rent Woodbury office space we have an option for you. Unfortunately we don't offer shared office space, just the traditional direct landlord tenant space rental options on Woodbury's western border. If you need a Woodbury office rental we can help.
To check out other locations in the nearby markets, you can also check out our expanded search under the vacancy tab on the main navigation, to view a map list, where you can map Woodbury and other locations we have nearby (we have four locations in St Paul). performing a non Woodbury filter search will turn up other possible options we have that might work for you without talking to multiple brokers. Having too many broker(s) involved can slow down the process. We'll streamline the process for you.
If you've been looking for the deal of the century then you don't need to look any further than the properties at Century Office Park!
It's no coincidence that we're is proud to boast about this office space property and the available rentals at this wonderful location in this newly renovated commercial property. The Century Office Park building truly is a gem in the Woodbury market. We don't invest in properties we don't believe in, but the amenities in this beautiful Woodbury office building go above and beyond what one typically expects to find in a standard office space. The property offers free high-speed wireless internet, available underground parking, larger conference rooms, medium meeting rooms, and a smaller meeting room, and also has executive suites available.
The content interior of the recently remodeled office spaces are sleek and modern. The building is also conveniently attached to the Green Mill Restaurant and entertainment center & Country Inn Hotel where they offer a full bar and food made from scratch every day. We highly recommend the award-winning Chicago-style deep dish pizza. On nice days you can even sit out on the property's beautiful nearby lake to enjoy your lunch or go for a brisk walk around it to cure some of the work day stress that we all experience far too often. There are also several large retail centers full of shops conveniently located nearby, for the purpose of running errands, or getting the required services most businesses need.
As with any of our locations with multiple available spaces, we offer a wide range of spaces for you to choose from. The listing office spaces we have now range in size from a minimum of around 200 sf to up to the 12,000 square footage range (more small and medium size options); with a variety of layout, ready for whatever customization you can dream up. The property currently provides class b space to house around 100 businesses, with service comparable to a class a property types. Some of our office space even has a look and feel similar to retail spaces. Some of the other space feature that are either currently in place, or possible of being alter to are open concept layouts, loft style high ceilings space, bright space with plenty of windows to draw in natural light, exposed beams or brick, and hardwood or tile floors can be added instead of carpet (upon request). Break rooms can be built-out within the tenant's suite with upgraded finishes like granite countertops and stainless steel appliances (adding a washer and dryer is even possible). Whatever it may be, we can customize the office space to fit the exacts specifications required. We even have small unique industrial storage rooms located in the underground parking garage, if you need warehouse/storage space (they range in size from 200-500 square feet).
We offer individual tenant suites as opposed to the coworking spaces. We found that the flat amount for a desk in a coworking environment (that's about the size of a phone booth) was too expensive for most small business owners to afford in their searches for the right space. So we decided to offer spaces starting at $350/month allowing access to a small meeting room and break room that you share. Most folks just use a phone projector if they need to do a quick presentation.
Check out the pictures and take our virtual office space tour! When you fall in love with the commercial buildings as much as we have, give Eli the lease contact a call to set up a time to view the property office space options to fit your business needs, and find out why its Woodbury's best value for the rental of commercial space.
If you compare our office space availabilities to that of others nearby such as: 1625 Radio Dr, 100 Sunnyside Blvd, Eagle Creek Ln, and Woodlane Dr, and The Reserve you'll see that we offer units at a rental rate that will be popular with your accounting operations. The price per sf data shows that we offer more competitive rates for the your money.
Don't forget to ask about the opportunity to get 50% off your first month's rent. If you find a better deal on a comparable space anywhere nearby we'll also match rent and offer the same rate. For additional details contact property representative Eli at 612-290-1037, or to setup a viewing.
Once you're a tenant with us we provide a tenant platform which includes a login account portal so you can pay your rent online. We strive to offer the best in lease management practices
The sale of office buildings like this has risen in recent years. If you're interested in purchasing a property similar to this let us know, and we'll assist you in finding the right space, as a service to you. Whether looking to rent or buy workspace, it's important to filter through the options to find the real estate listings that best fit your needs. Using the correct filters when searching for office space listings important. We'll make it our top priority to assist you. Let out team help to answer any questions. We don't just use yardi matrix, case studies, or loopnet data when rating spaces or perform market by address searches. We have a much more intensive process for prospective buyers or tenants for a commercial property.
 6043 Hudson Road, 6053 Hudson Rd, and 6063 Hudson Road Woodbury MN 55125
AVAILABLE WOODBURY OFFICE SPACES
{ click the SQFT links below to view floor plans }
TYPE OF SPACE
SIZE
PRICE
OFFICE
150
SQFT
$250
per month
OFFICE
210
SQFT
$325
per month
OFFICE
243
SQFT
$375
per month
OFFICE
254
SQFT
$385
per month
OFFICE
273
SQFT
$400
per month
OFFICE
273
SQFT
$410
per month
OFFICE
277
SQFT
$415
per month
OFFICE
337
SQFT
$505
per month
OFFICE
353
SQFT
$530
per month
OFFICE
378
SQFT
$570
per month
OFFICE
395
SQFT
$595
per month
OFFICE
452
SQFT
$680
per month
OFFICE
454
SQFT
$680
per month
OFFICE
492
SQFT
$740
per month
OFFICE
613
SQFT
from $16
per SQFT
OFFICE
694
SQFT
from $16
per SQFT
OFFICE
707
SQFT
from $16
per SQFT
OFFICE
754
SQFT
from $16
per SQFT
OFFICE
762
SQFT
from $16
per SQFT
OFFICE
781
SQFT
from $16
per SQFT
OFFICE
787
SQFT
from $16
per SQFT
OFFICE
835
SQFT
from $16
per SQFT
OFFICE
901
SQFT
from $16
per SQFT
OFFICE
961
SQFT
from $16
per SQFT
OFFICE
988
SQFT
from $16
per SQFT
OFFICE
997
SQFT
from $16
per SQFT
OFFICE
1,009
SQFT
from $16
per SQFT
OFFICE
1,018
SQFT
from $16
per SQFT
OFFICE
1,024
SQFT
from $16
per SQFT
OFFICE
1,225
SQFT
from $16
per SQFT
OFFICE
1,234
SQFT
from $16
per SQFT
OFFICE
1,366
SQFT
from $16
per SQFT
OFFICE
1,372
SQFT
from $16
per SQFT
OFFICE
1,373
SQFT
from $16
per SQFT
OFFICE
1,570
SQFT
from $16
per SQFT
OFFICE
1,740
SQFT
from $16
per SQFT
OFFICE
1,749
SQFT
from $16
per SQFT
OFFICE
2,050
SQFT
from $16
per SQFT
OFFICE
2,140
SQFT
from $16
per SQFT
OFFICE
2,474
SQFT
from $16
per SQFT
OFFICE
2,708
SQFT
from $16
per SQFT
OFFICE
2,798
SQFT
from $16
per SQFT
OFFICE
2,918
SQFT
from $16
per SQFT
OFFICE
3,472
SQFT
from $16
per SQFT
OFFICE
4,225
SQFT
from $16
per SQFT
OFFICE
12,106
SQFT
from $16
per SQFT
CLICK FLOOR PLAN IMAGES BELOW FOR MORE DETAILS…
BUILDING 6043
BUILDING 6053
BUILDING 6063
WOODBURY SPACE
PROPERTY INFO FLYER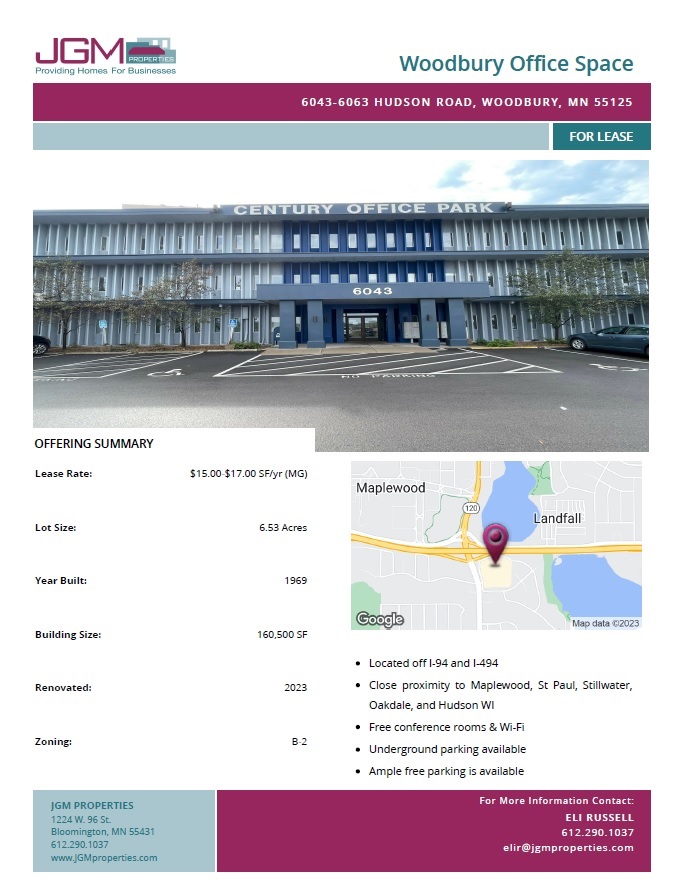 How to Find Office Space For Lease in Woodbury
| Steps | Actions |
| --- | --- |
| #1 Go to Google and type in "office space in Woodbury" | Scan the first 10 results |
| #2 Look for webpages that offer prices | Ensures prices are within your budget |
| #3 Find leasing agent phone number and contact them | Setup a time to view the spaces in person. Contact them on Linkedin as well. |