This slideshow requires JavaScript.
Bloomington Office & Warehouse Space for Lease
Office and warehouse space for lease located off 35W & I-494.
This property offers office space, warehouse space, and office warehouse combos available for rent.
Property Info
Location Details
Narrative
Address
Video Tours
Map
Located off 35W near I-494.
Close proximity to Richfield, Burnsville, Edina, and Minneapolis.
Ample parking.
22′ high ceilings.
Heavy power available.
Dock and drive-in doors available.
Custom build-outs available.
How about a riddle? What would you name the most convenient property to access that JGM has ever had to offer? If you guessed the Freeway West Property, then you're right.
This amazing building with office space, warehouse space, and small studio offices available is located off 35W & the 96th Street Exit in Bloomington, within 1 mile of I-494. It's not only convenient for you to access, but everyone else that is coming to visit you as well. If that is a deciding factor in how you attract clients, you may want to seriously consider leasing in this Bloomington location. We haven't even mentioned the free advertising you'll get with all the traffic passing by!
Bloomington is only ten miles south of Minneapolis, however it is considered to be quite a booming metropolis on its own with over 80,000 people. In fact, Bloomington has much of its industrial growth to thank the construction of I-494 and 35W for. Having the famous Mall of America centrally located in Bloomington has certainly not hurt its economy either!
While Bloomington is considered a big city with the benefits of a stable economy, unlimited potential customers, fine dining, and entertainment, it isn't so big that you have to deal with the headaches you may experience trying to work or live in downtown Minneapolis. For instance, here at the Freeway West Property you will never have to worry about searching for a parking spot, paying a garage, or pumping a meter every few hours.
Bloomington also has close proximity to Richfield and Burnsville. Working at a building named Freeway West is an obvious choice for convenience. Working in the same city as the Mall of America is an obvious choice for all of us who are shopaholics!
Give Eli a call at JGM Properties today.
West side is the best side, especially when it's so convenient to access!! Check out our Freeway West Property today and you'll see exactly what we mean!
JGM is pleased to present to you an immaculate building with available office, warehouse, and office/warehouse combos available to lease. We offer a variety of sizes from small individual suites to large offices of up to 5,000 square feet. If there is a specific size or combination that you're looking for then we are more than happy to customize something for you to make sure you have exactly what you're looking for.
If you're looking for a quiet office place, please step into our virtual tour to observe the efficient yet tranquil set-up that the stunning Freeway West Property in Bloomington, Minnesota has to offer. If you're looking for a productive warehouse space then you'll be pleased to know this building offers 22? ceilings, heavy power, dock doors, and drive-in doors to make sure that your deliveries run smoothly.
We love all our properties and, like how most parents feel about their children, it's hard for us to pick a favorite… but not really that hard. JGM fell in love with the Freeway West Property building and the city of Bloomington so much, that's where we chose to build our corporate office. That's right, if you lease an office or warehouse space at the Freeway West location, then JGM Properties will be your friendly neighbor! We don't like to toot our own horn, but you'll be in great company! Oh what the heck… TOOT TOOT!!
Give us a call today and Eli will be more than happy to show you around in what could be your company's new home! Don't forget to ask about getting 50% off your first month's rent. Consider it a gift from us, welcoming you to the neighborhood. Also check out our other location in Bloomington for current office and warehouse vacancies: https://jgmproperties.com/property/corporate-one/
 1224 West 96th Street Bloomington MN 55431
AVAILABLE SPACES
{ click the SQFT links below to view floor plans }
| TYPE OF SPACE | SIZE | PRICE |
| --- | --- | --- |
| NO VACANCIES | NO VACANCIES | NO VACANCIES |
OVERALL PROPERTY LAYOUT
PROPERTY INFO FLYER
Office Space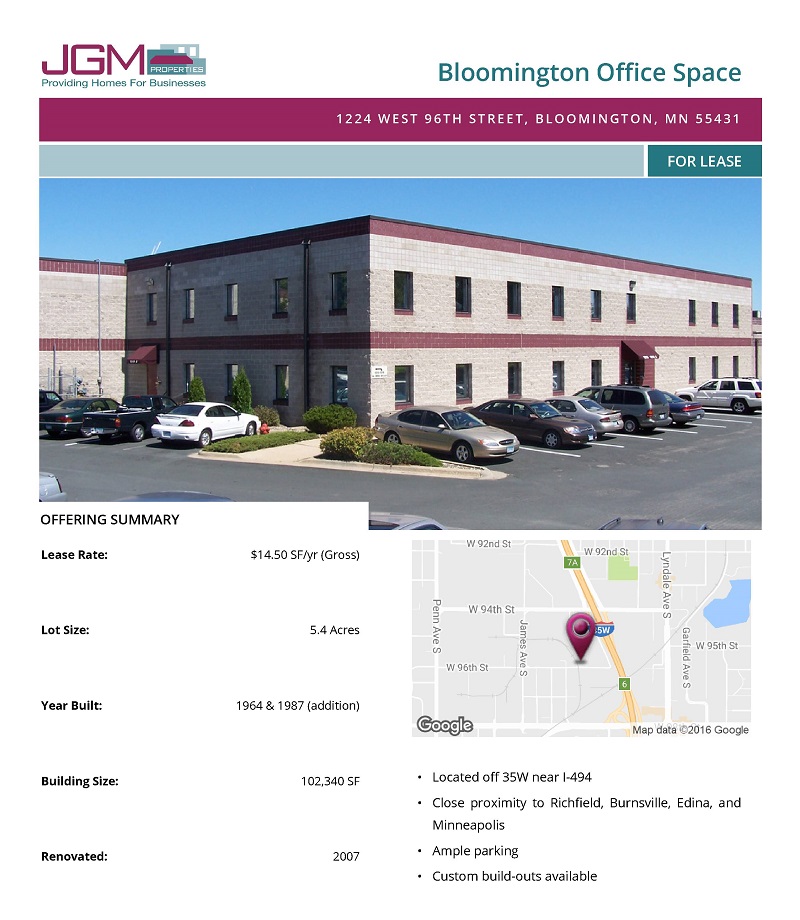 PROPERTY INFO FLYER
Warehouse & Office Space