Bloomington Office & Warehouse Space for Rent
Office warehouse space for lease located off 35W & the 106th Street Exit in Bloomington. Directly located on Lyndale Avenue South.
Property Info
Location Details
Narrative
Address
Video Tours
Map
Located off 35W and 107th Street exit (near I-494).
Close proximity to Richfield, Burnsville, Edina, and Minneapolis.
Free Wi-Fi.
Dock and drive-in doors.
Ample free parking is available.
Heavy power available.
18 foot ceilings.
Custom build-outs available.
It's no surprise that one of our favorite office warehouse properties here at JGM is being sold for a number one rate in a number one location and is referred to as the Corporate One building. If locations were given blue ribbons, this Bloomington gem would definitely take home first prize.
This office warehouse building is located off of the easily accessible 35W & the 106th Street Exit in Bloomington. Any true Minnesotan knows what it means to have an address on the Lyndale Avenue South, and this property is no exception to the exclusive, located at 10740 Lyndale Avenue South in Bloomington MN.
So, what exactly makes this location so spectacular? Well, let's see… have you ever found that perfect pair of jeans right after riding an indoor roller coaster?! The fact that the Mall of America is proud to call Bloomington, Minnesota its home is the number one reason that Bloomington offers more jobs per capita than either of the major metropolises of Minneapolis or St. Paul.
With such booming capitalism, it seems simply ironic that nature accounts for one third of Bloomington's geography all in the form of parks. Bloomington is flanked by both the mighty Mississippi River and the Minnesota River and much of the beautiful land in this city in nationally protected by the Minnesota Valley wetlands and the Hyland Lake Park Reserve.
This Lyndale Avenue South office warehouse space location has great proximity to Richfield, Burnsville, and Minneapolis. If you're looking for an office or warehouse space with big city benefits but small town convenience, this Bloomington property might just be the perfect fit. Bloomington really is the best of both worlds in more ways than one, with the Mall of America feeding the economy and the parks system preserving the natural beauty of the town.
If you think Bloomington is the right place for you to call home for your business (and we certainly do), give Eli a call at JGM Properties today.
There has never been a name more fit for an office and warehouse building than Corporate One. The term "corporate" has a quiet dignity that exudes success while the "one" sounds like rowdy Minnesota Vikings' fans shouting in unison "we're number one, we're number one!"
This beautiful property boasts a number of small to medium-sized offices and warehouse spaces. Of course, at JGM Properties we want to leaving you chanting "they're number one, they're number one," so we are happy to customize any office and warehouse space combo to meet your specific needs.
With our "fifty percent off your first month's rent" offer, our accountant isn't pleased we also offer free Wi-Fi and ongoing property upkeep, maintenance, and regular renovations. The Corporate One building on Lyndale Avenue South has dock doors and drive-in doors to make deliveries in and out of your brand new warehouse space more convenient. The ceilings have an impressive height of 18' and access to heavy power is also available if necessary to accommodate your business requirements.
A picture certainly is worth a thousand words and from the Corporate One photo you can see that not only is the building modern and beautiful, but to say parking won't be a problem is quite an understatement.
No one understands the stress that comes with moving to a new location better than Eli at JGM Properties. He knows that is you are looking to lease a new office or warehouse space you are relocating, expanding, or, scariest of them all, risking everything to start a new business. That's why JGM makes the process simple and headache free.
Call Eli today and he will be more than happy to show you around one of our most prized properties at the Corporate One building in Bloomington, Minnesota. If you need Bloomington office and warehouse space for rent we've got you covered. We also have another location in Bloomington that consists of office and warehouse space options. Check out the current availabilities at this location: https://jgmproperties.com/property/freeway-west-property/
 10740 Lyndale Avenue South Bloomington MN 55420
AVAILABLE SPACES
{ click the SQFT links below to view floor plans }
OVERALL PROPERTY LAYOUT
PROPERTY INFO FLYER
Office Space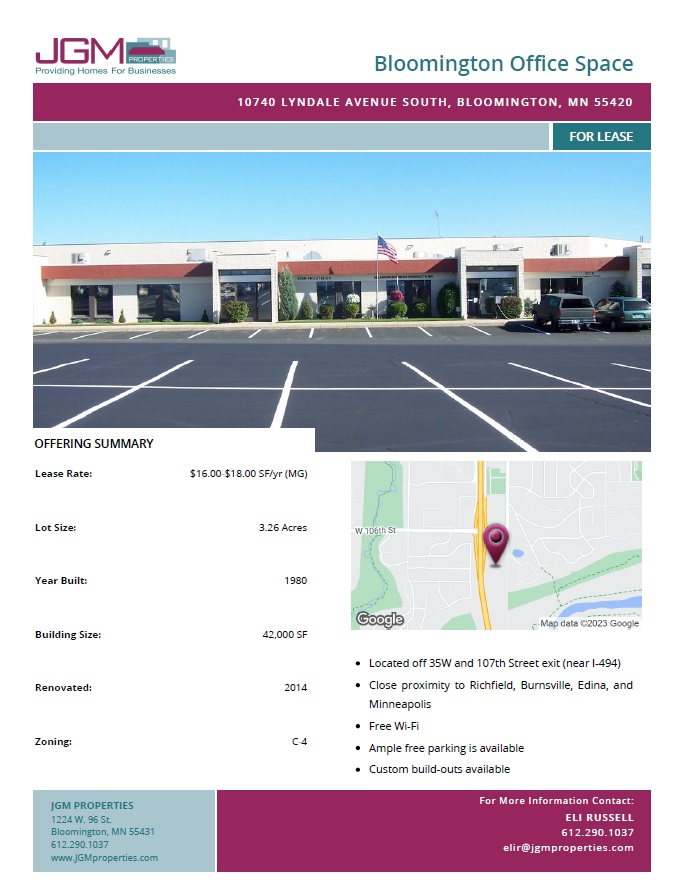 PROPERTY INFO FLYER
Warehouse & Office Space